FELCOM251 and FELCOM501 are FURUNO's latest Inmarsat FleetBroadband terminals, which delivers ship-to-shore/ ship-to-ship broadband communication of up to 432 kbps, anywhere at sea, by utilising the inmarsat Fleet Xpress system coverage. (coverage map below.)

In addition to data communication services (Standard IP of up to 432 kbps). FleetBroadBand allows the users to make use of ISDN data service* as well as FAX communication.

FELCOM251 and FELCOM501 will bring cost-effective broadband communication onboard the vessels for a variety of needs, for both operational and social purposes, including calling their friends and family back home while at sea.

* FELCOM501 only
Features
Inmarsat fleet broadband data coverage anywhere at sea
Support the Inmarsat Fleet Xpress system

Standard IP(Up to 432 kbps for FELCOM501)
Streaming IP(Up to 256 kbps for FELCOM501)
Satellite voice
Enhanced voice services
Crew calling
GSM calls
SMS
Safety
Fax

Noise suppression function to improve the listening comfort in noisy environment
Compact Communication Unit FB-2001 for easy installation
High level of security settings (IP Filter, Firewall)
Remote Maintenance Available
Ample connection interface for retrofitting with existing systems and components
Conforms to the following standards: Inmarsat Fleetbroadband SDM, IEC 60945 (Ed.4), IEC 60529 (Ed.2)
Overview
System Overview of FleetBroadband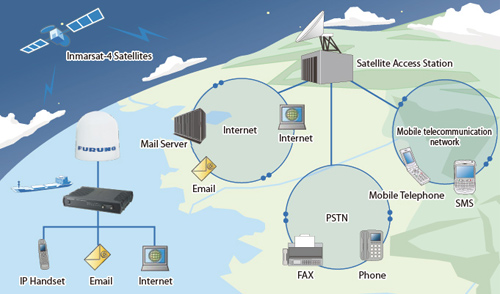 FleetBroadband coverage
I4 satellite F1 PAC-W 143.5E: Covering Oceania, Western Pacific and South and East Asia.
I4 satellite F2 IND-W 25E: Covering Western Asia, Africa and Eastern Atlantic.
I4 satellite F3 PAC-E 98W: Covering Western Atlantic, Eastern Pacific and Americas.
Crystal clear voice telephony
4 kbps cost-effective, landline quality speech available.
Supports one circuit switched service at any one time.
Simultaneous use together with data communications.
High stability in communication links achieves constant network availability even under harsh environmental conditions.
Supports additional core voice and ISDN data capabilities for integration with legacy applications.
ISDN compatibility available on FELCOM501.
SMS (up to 160 characters) and voice mail.
Equipment list
Model Name
FELCOM251
FELCOM501
Standard
Antenna Unit
FB-1251
FB-1501
Communication Unit
FB-2001
IP Handset
FB-8001
Option
Incoming Bell
FB-3001
Alarm Panel
FB-3101
Telport Extender
FB-3002
USB-RS-232C Converter
FB-3003
AC/DC Power Supply Unit
406080A-FUR-001
Specifications
Model Name
FELCOM251
FELCOM501
General
Transmitting Frequency
1626.5 – 1660.5 MHz、1668.0 – 1675.0 MHz
Receiving Frequency
1518.0 – 1559.0 MHz
Interface
LAN
4 ports, ethernet 100Base-TX, RJ-45 (PoE)
Analog Telephone/Telefax
2 ports (4 ports with optional adapter)
USB
1 port, USB2.0 (RS-232C conversion with optional adapter)
Alarm output
1 port, contact closure (normal close), External relay
Sim card
1 Slot
Communication services
Voice
4 kbps AMBE+2 or ISDN 3.1 kHz audio
Data
ISDN(UDI/RDI)
–
64 kbps
Standard IP(Best effort)
MAX 284 kbps
MAX 432 kbps
Streaming IP(Guaranteed rates)
32、64、128 kbps
32、64、128、256 kbps
Short message
Up to 1120 characters
Facsimile
Group 3 Facsimile via 3.1 kHz audio
Environmental conditions
Temperature
Antenna Unit
-25°C ~ +55°C(Storage: -40°C~+85°C)
Communication Unit
-25 °C ~ +55 °C
Protection
Antenna Unit
IPX6
Communication Unit
IP31
IP Handset
IP56 (Cradle: IP22)
Power Supply
Communication Unit
12-24 VDC: 14/5.5 A
Power Supply Unit
100-240 VAC, 1 Phase, 50-60 Hz